Pane Dolce di Zucca

My church had a bake sale last Sunday and asked for members to contribute items. I thought of the pile of recipes I'd been accumulating for trying out on rainy days, and this seemed like a great chance to make something new without having to (oh the humanity) eat the whole recipe myself. So I picked these three recipes and had a lot of fun baking during the week.
The bread is from the
Italian Country Table by Lynne Kasper
, a really nice cookbook I got for Christmas a few years back. It was a relatively easy recipe with an unusual sweet/savory flavor of pumpkin, rosemary and golden raisins in a yeast bread. Yum!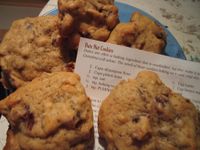 Date Nut Cookies

I picked up this recipe at the Pittsburgh
Penzeys Spice
store. Penzeys is a great place to get a huge variety of really fresh spices that you didn't even know you needed until you get there and spy the zataar and juniper berries and involuntarily cry out, "Where have you been all my life?" No, they aren't paying me to say that, but when they open their store here in Arlington Heights (that's the rumor), I would certainly appreciate a job offer.
I've had this sort of odd date obsession lately (no singles jokes please, we are talking about food and therefore this is VERY SERIOUS). Actually, my newfound date fling is related to a bad food pun: I went to a lovely wedding last year (hello,
Susan
!) where
they served
an absolutely stunning appetizer: dates stuffed with almonds and wrapped in bacon. Their name: "hot dates", of course. Before that, I never liked dates. But the sugary contrast of the datemeat with the crunchy almond and the super salty bacon just about slayed me. So now I seem to always have a supply of dates on hand. They really are like candy. Anyhow, this recipe used dates and I had some and there you are. They were good, in a grandmotherly sort of way.
Gooseberry Sage Thumbprints

This last cookie was probably the most adventurous. The original recipe used blackberry jam but the rule of thumbprint cookies is, use whatever jam you've got. Or at least, that was my rule last week when I looked in the fridge and there was this lovely jar of home-made jam my Aunt Mary gave me. The recipe includes corn meal and sage which are always a good combination. It all worked out really well. They were a cookie targeted at a slightly more sophisticated audience although most kids wouldn't really notice anything weird about them, I don't think.
Anyhow, all of the bake sale items went like the proverbial hotcakes. It was fun to be the anonymous baker as I watched someone pull out $5 for my loaf of fresh baked pane dulce. It was even worth the huge mess I made in my kitchen (see below).
Very Messy Kitchen