Seriously Spikey Cool BPL Entrance

Life working in the Back Bay of Boston isn't all bad. (No one ever said it was, I think the 'working' part is the problem). Because of its proximity to where I work, I've gotten to know the Boston Public Library, which has become one of my favorite places in town. The
Reading Room of the Boston Public Library
is just a wonderful place to sit and think, and arguably nicer than the
world famous reading room of the NYPL
. In the wintertime when there are no farmer's markets or sunny park benches to sit and muse during my lunch break, I can frequently be found there, doodling in my journal. I particularly love the ceiling and the
lamps
.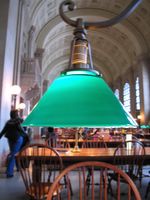 Reading Room Lamps

During a recent visit, I spotted something new, or at least something that seemed a bit odd. Tiny plaster birds were scattered on high shelves throughout the room. Where did they come from? Why are they there? Is this one of those
whimsical things that people do
and wait for someone to notice? Or is there some deeper, more sinister meaning? Hmmmmm!
Mysterious Little Plaster Birds

Finally, I think this statue out front is really lovely. And I think she is saying to me, get your dang self in your dang studio this weekend, woman! So I may do just that.
My Muse?